It's time for another bitch about recent events in the wonderful world of pop! I'll start with some exciting news. Despite taking a decade off between her first and second studio albums, pop trash favourite Deni Hines somehow managed to record and release her third offering in a matter of months. "The Other Woman" is a huge change of pace for Deni. Australia's urban queen has reinvented herself as a jazz diva with the help of James Morrison and the results are sublime. "The Other Woman" was released yesterday. Autographed copies are available for a limited time from
Chaos
. Expect a full review in the near future!
My 2 Cents On 2 Hearts
By now everyone and their fag hag has commented on Kylie's comeback single but I thought I would throw in my two cents. Despite loathing the demo, I've fallen in love with "2 Hearts". Kish Mauve have crafted the musical equivalent of watching
Hedwig & The Angry Inch
on Valium. "2 Hearts" is a bit glam, a bit tragic and most probably quite profound - if I knew what the fuck was going on. While the song continues to grow on me with every listen (and I admire Kylie for having the balls to come back with something completely different), I still think "2 Hearts" is an abysmal choice for the first single. Kylie needed to come back with a bang - not with a song that leaves people scratching their head until the 23rd time they hear it. No wonder Parlophone are already lining up the second single. Expect "2 Hearts" to fall down the charts faster than Dannii's knickers in a dyke bar!
The song might be somewhat perplexing but the video for
"2 Hearts"
won me over immediately. It's tacky, slightly embarrassing and by far my favourite Kylie video since the masterpiece that is
"Please Stay"
! Here is my blow by blow review:
0.10 I wonder if Carol whipped out her Bedazzler to gay up Kylie's skull microphone.

0.15 Kylie looks nice in the dark.

0.25 Camping it up on a piano. Will Kylie start a trend for glow in the dark moon tans?

0.35 Kylie's channelling her character from The Delinquents with the peroxide blond hair and home perm. I like!

0.45 Girlfriend is looking mighty fine lying upside down on said piano.

0.50 Has Kylie hired Roxette to play her band in the video?

1.05 This video is cheaper than
"Perfection"
- and I swear that was filmed on Dannii's mobile phone!

1.20 Kylie looks like she's wearing my grandmother's house dress and clogs. Knicker flash! That's more like it.

1.25 Those shoes are foul.

1.40 Kylie looks like a pissed housewife at karaoke. I love this tacky shit!

1.50 Almost spilled my drink. Kylie's strut to the microphone in what appears to be a sequined wetsuit is FIERCE! Work it, bitch!

1.55 Kylie's cocked eyebrow of death! That microphone would look nice in my lounge room.

2.00 Having visions of Jem & The Holograms.

2.10 Shake that money maker!

2.15 Is that a man or a woman on guitar?

2.25 Glitter explosions and a jumping guitarist! Surely this is a piss take.

2.45 Kylie was made to straddle that amp. HOTNESS!

2.50 End
At least Kylie no longer has to worry about having egg on her face if "2 Hearts" misses the top spot in the UK. The Spice Girls are now releasing their own comeback single in the same week as Kylie and are overwhelming favourites for number 1. The slappers have also announced the tracklist for their upcoming Greatest Hits compilation. It looks pretty boring to me:
1. Wannabe
2. Say You'll Be There
3. 2 Become 1
4. Mama
5. Who Do You Think You Are
6. Move Over
7. Spice Up Your Life
8. Too Much
9. Stop
10. Viva Forever
11. Let Love Lead The Way
12. Holler
13. Headlines (Friendship Never Ends)
14. Voodoo
15. Goodbye

Got GBH?
It seems poor Jade Macrae was drugged when she hit the tiles on the gay scene last weekend. Happily, Jade managed to wring some publicity out of the experience in yesterday's Sydney Confidential: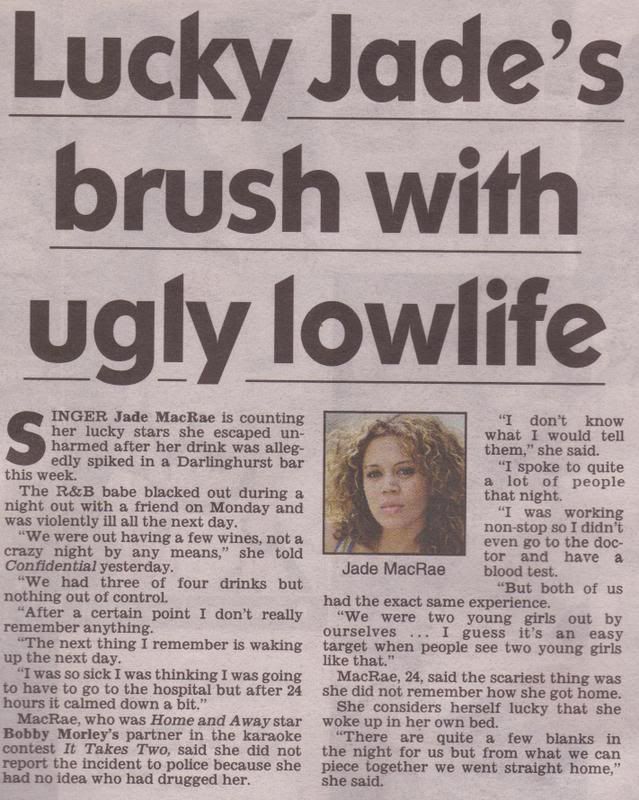 7th Single
Pink is gearing up to release the 7th single from her 8 times platinum album "I'm Not Dead" in Australia. That might sound like overkill but 5 of those singles have hit the top ten and the album remains firmly entrenched in the top twenty 80 weeks after release! The new single,
"Cuz I Can"
, isn't as shit as the title would suggest. But then again, I'm rather partial to songs about ice cream! Good for her. Pink isn't the only pop star who is continuing to flog a not so dead horse. Justin Timberlake is promoting the 6th single from "Future Sex/Love Sounds" - a frightful duet with Beyonce called
"Until The End Of Time"
. I think Timbaland is starting to take the piss.
Note To Robyn
What's got into Robyn? The former queen of cool has remodelled herself as the poor man's Dannii Minogue. First she steals Dannii's favourite DJs to remix "Handle Me" and then blatantly rips off Dannii's
"So Under Pressure"
video - only without Dannii's lack of clothing and phallic snake. The
new "Handle Me"
video is piss poor. Robyn looks absolutely revolting and the concept is clearly derivative. It's a pity because the
original "Handle Me"
video is a masterpiece. Give me Robyn riding a bike through the hood in a red cocktail gown over this
Boxing Helena
tribute any day.
Dulta's Un-airbrushed Album Cover
Two Fabulous Divas
One of my favourite local divas, Brielle Davis, will be performing around Sydney this week. If you missed tonight's show at the Brass Monkey, you can still catch Brielle at The Harp Hotel next Saturday. Brielle's acoustic EP is available from
her website
. Congratulations are in order for Melinda Jackson on reaching #5 on the AIR (Independent) Chart with her poptastic anthem
"Magic"
. Keep an eye out for Melinda's debut album, scheduled for release later this year.
On a personal note, I'd like to thank the people who dropped by our trashy forum. I knew it was going to be outrageous but even I wasn't expecting
this
!