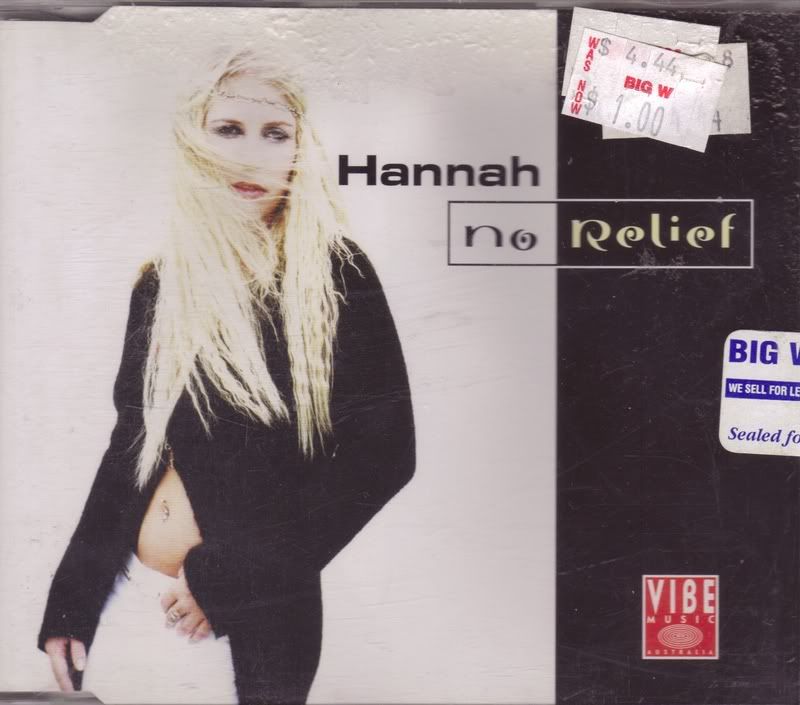 One of the best posts to emerge from the short lived but highly amusing
Pop Trash Addicts
forum honoured Hannah - a one "hit" wonder who garnered a degree of notoriety when it was revealed that her mum bought her a chart placing by purchasing several hundred copies of Hannah's debut single, "No Relief".
This Sydney Morning Herald article
outlines the situation in greater detail and it still fascinates me.
I can't help but feel sorry for Hannah. She was an utterly craptastic pop star but she tried really hard. I remember Hannah performing at shopping centres all over Sydney and I have a vague recollection of her miming to "No Relief" in a car park! As you can see from the scan, I rescued my beaten up copy of "No Relief" from a Big W bargain bin and it was $1 well spent. The song is not a masterpiece by any stretch of the imagination but it holds up as an enjoyable piece of pop fluff - albeit with really bad lyrics and dodgy vocals! I wonder what happened to Hannah. I hope there was some kind of silver lining to her ordeal.